▲ Fortnight game scene (source = Flickr)
Fort Knight is one of the world's most popular loot royal games. The game is explosively popular with more than 40 million users around the world in 100 days of launch, and game violence is also a problem as it is a shooting game.
Port Knight Violence and Grades
Each country is assigned a rating and manages the violence of Fortnight. The UK's Video Standards Committee (VSC) has designated PEGI 12 as a level of "illegal" for children under the age of 12 to purchase games. VSC explained that the game player has set a rating of 12 or older, because he can use any weapon that can be found on the spot to defeat the monster and save the survivor.
In the United States, they received a more flexible Teen rating than the UK. The Entertainment Software Rating Board (ESRB), a regulatory body that works with US and Canadian gaming classifiers, estimates that players can use monsters, knives, and grenades to fight monsters in ranged and near-field combat. Spikes and poisonous gases are also used to defeat the enemy. The ESRB described the game as full of gunfire, explosion, and painful screams. Apple's operating system, iOS, is also available for limited use beyond the age of 12. Apple has also pointed to the medical treatment of injuries.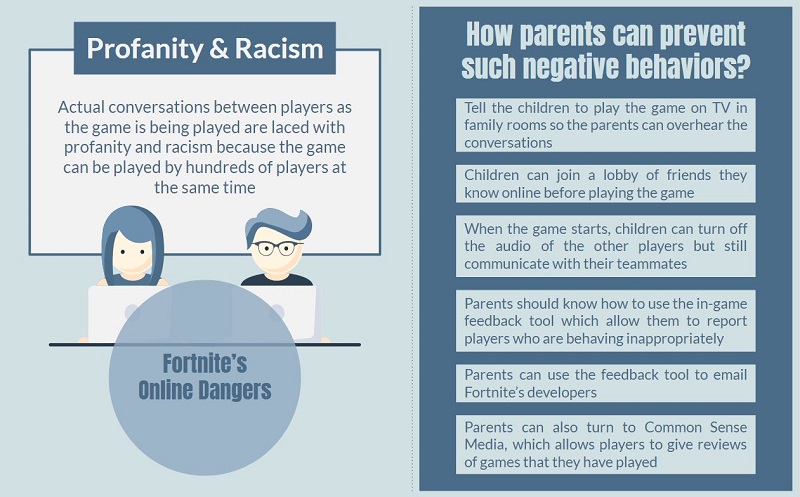 ▲ During the Fortnight game, children can be at risk online
Online risk
There is also a view that players may be at risk online during the game. For example, in a real conversation that you share in a game, you may be insulted or racist, and hundreds of people can play games at the same time, exposing you to verbal abuse. In addition, the player can not turn off the audio or choose who to play.
If you are concerned about this, parents should encourage their children to play games in an environment where they have family members to prevent negative behavior in the first place. If you are a younger child, it is a good idea to block this risk by joining a friend's lobby that you had previously played with. In this case, when the game starts, the children can turn off the audio of the other players and continue the conversation with their teammates.
With the in-game feedback tool in the main menu, it's better to have the ability to report players who are acting improperly. You can also send emails to Fortnight developers using feedback tools. Through Common Sense Media, players can also review reviews of a game, a non-profit media organization that aims to help children grow healthy.
Item purchase cost
The cost of purchasing items is also very high. To enjoy Fort Knight on the Xbox, you need to subscribe to the Xbox Gold service for £ 39.99 a year. You also need to get 19.99 pounds for the Season 3 Battle Pass and get the necessary 2800V-Bucks. In addition, there are new clothes and equipment that can differentiate your character, so it's a good idea for parents to make sure that they can make passwords to prevent children from buying multiple items in the game.
Showing anger during a game
Fortnight Battle Royale is a very competitive and combatant game because it is a game that is more skillful or more intense than an experienced opponent. If the game is not what it is, then some children will not be able to control their emotions and cause anger.
For example, your internet connection may be slow and not functioning properly, or you may have problems with your headphones. Or another phone might come and interfere with the game. Parents should ensure that the child has enough rest to regulate excitement and anger.
If you are interested in the game your child plays and if you study why this game is so popular among teenagers, you can understand your child much better. Praising a child for a good game can help her express her anger in less violent ways. Parents are also encouraged to identify information that can safely keep their kids online through the Internet.
But you do not have to worry about too bad things. Like most Battle Royale games, Fort Knight can also learn how to improve teamwork and friendship, cooperation, and reflexes, albeit with violence. Also, you can learn not only the action but also the tactics about weapons and position management, and this part is evaluated to help the child's brain development.