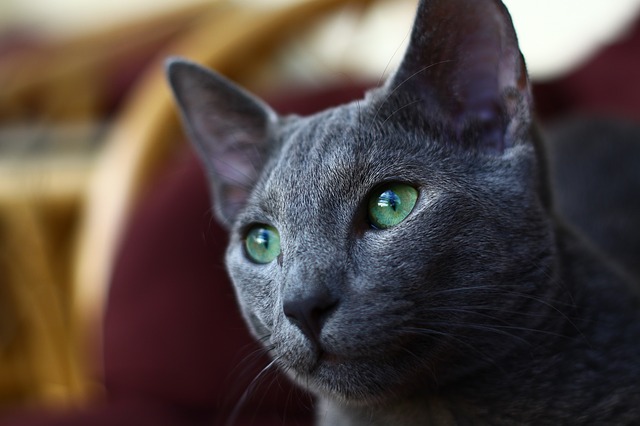 Source: Pixar Bay
If you are looking for a cat that is beautiful and does not have a lot of time to maintain, the Russian Blue is the best choice.
The Russian Blue is quiet and shy, but once you open your heart, it expresses a lot of love to the owner. At first it looks cool, but after getting familiar, the Russian Blue will act to attract the owner's attention.
When the owner comes out and comes back to the front door, the owner of the Russian Blue comes to his side and keeps his seat quietly if the owner is concentrating on something. Relatively quiet even though the voice is small and quiet.
The Russian Blue is covered with silver gray color and looks beautiful as the soft hairs every time you move your body. Because it has short hair, it is easier to maintain than other long-haired cats.
The eyes of this cat are large, round and deep green. It is as if you are attracted to someone who is staring at you.
The Russian Blue is highly intelligent and can be trained. This cat likes to play with the owner to bring things back. They also chase toys and enjoy sunbathing.
Cats of this breed are not likely to respond much if left alone at home. Sitting in a sunny window, he looks at the bird and waits for his master to return.
It is better to follow the people you like, especially among family members, but if you are confident that you are safe, you can get along well with everyone. Sometimes I approach people first and then I blame their heads to people.
Russian Blue likes to eat. So if you want to grow Russian Blue, you should pay attention to feed or snack doses so that your cat is not overweight or obese. Obesity, like people, is the source of all sorts of cats.
Russian Blue is healthy without any particularly vulnerable disease. But for long periods of time, you should visit the veterinary clinic on a regular basis to have the cat checked.